India Center Foundation (ICF) is a non-partisan and not-for-profit organization, instituted with a vision of contributing towards India's nation building process by working as a CATALYST.
Our mission is to help evolve thought processes and new models of socio-economic framework for India, by mapping the aspirations of this burgeoning nation to the availability of resources.
The new framework thus evolved will be Energy efficient, Environmentally responsible and Sustainable and will also contribute towards empowering societies across the globe.
In order to fulfill the journey of initiatives from intangible "NirakaarBramha" towards tangible " SakaarBramha , " ICF works through the structured modality of: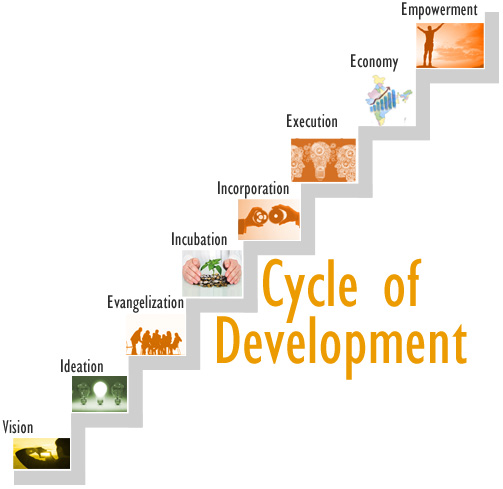 As a CATALYST, our initiatives and macro socio- economic models are based on re-definition and re-establishment of industrial culture, urban and rural infrastructure, education, art, culture, knowledge, agriculture, healthcare and energy security.
India – Japan Global Partnership is one of our many initiatives. Inspired by Japan's process of successful nation building, India Center Foundation believes, a global partnership between India and Japan is not only of mutual national interests but will contribute to the rest of the world.
We strongly believe nation-building process is teamwork. Driven by our esteemed Trustees, Advisory and Executive Board Members, we work in a team of various governing bodies, apex business bodies, not-for-profit organizations, civil societies, thinkers and leaders from all sections of society. The team works towards evolving working models of envisioned new socio economic framework through invention and innovation of existing frameworks, knowledge and experience.
Working together, Collaborations and Partnerships are the essence of our initiatives.
Innovative to the core, India Center Foundation actuates new ideas of development with a firm belief that India, as a nation has enormous productive potential to accelerate not just its development, transformation quantum and pace of its nation building processes but also contribute positively to Asia and the world.
Contact us: contact@indiacenterfoundation.org