Chairman's Message
---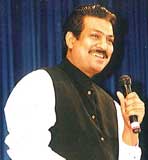 Vibhav Kant Upadhyay
Dear Friends,

India and Japan share a long history of affinity, friendship, non-conflicting relationship and significant number of complementarities. Apart from being major drivers of Asia, both are democratic, have similar social values, synchronized thought processes and share cultural roots. Non-conflicting relations and capability are natural between India and Japan and have existed for decades.

India Center Foundation has been working relentlessly for more than a decade from socio-economic perspective with policy makers, business leaders, opinion leaders, academicians from both the societies, on the willingness of both countries to work as Global Partners.

I appeal to my fellow countrymen and also to friends from Japan; let us understand the significance and importance of this partnership for us and for rest of the world.

The Foundation has taken an initiative in the form of bi-yearly, "India-Japan Global Partnership Summit", which is supported by policy makers, opinion leaders, business leaders, leaders from media and academicians from both India and Japan. The main objective of the Summit is "To evolve a Micro Road Map for existing Macro Vision of India Japan Global Partnership".

I firmly believe this summit will greatly enhance understanding at every level of the society and create a chain reaction of deeper understanding and a close cooperation in every possible field among already friendly people of India and Japan. I look forward to your participation in the summit and making the Global Partnership move rapidly towards achieving its goal.